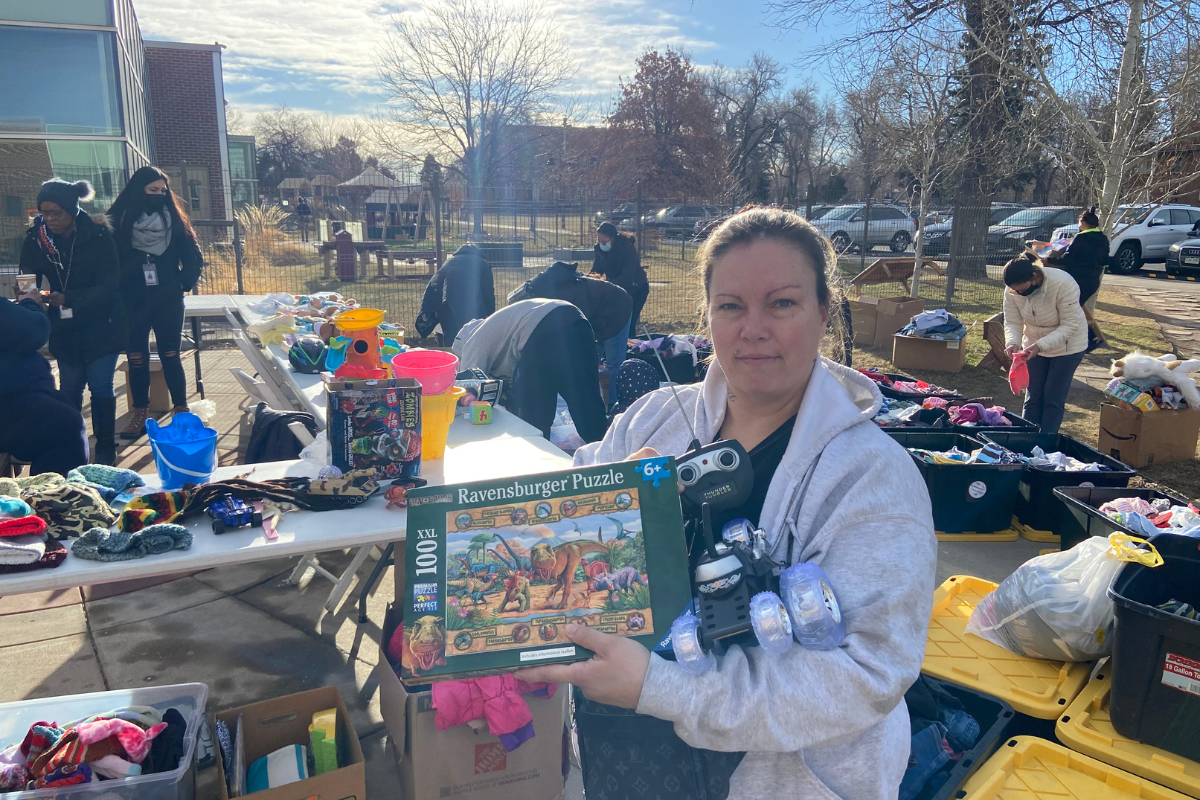 Diapers and wipes are essential for families with young children, but as any parent knows, they can be expensive. That is why Clayton is grateful to partner with WeeCycle, a nonprofit organization that has been serving Colorado's families for over a decade with diapers, baby wipes, and gently used baby gear.
Sena Harjo, Community-Based Child Family Educator and 10-year staff member at Clayton, has been leading our partnership with WeeCycle for the past four years. "WeeCycle is a great organization," Harjo said. "They believe in reusing and reducing the waste of early childhood items." From diapers and wipes to child gates and outlet covers, WeeCycle can provide countless amounts of essential household items to lessen the financial burden on families.
Beth Phillips, Mentor Coach at Clayton, knows that families living in poverty pay more for infant and toddler supplies. "At Clayton, we are in a food desert," Beth said. "You don't have those big box stores, and some of our families don't have cars, so they're buying items at Walgreens or at gas stations, where the cost is higher. When WeeCycle researched this, they knew they needed to expand and provide more diapers, wipes, and baby supplies."
Last year, the Emergency Supplies For Colorado Babies And Families bill was passed by the Colorado state legislature, expanding diaper donation and access to families in need. Through the bill's grant program, WeeCycle was able to use the money to purchase diapers. After Clayton became a member, 160 families were able to sign up and receive 100 diapers per child every month.
Lindsey Zaback, Development Director of WeeCycle, said this bill provided two million dollars in funding for 2022. "In 2022, our goal is to serve an average of 800 Colorado infants and toddlers per week," Zaback said. "Along with donating two and a half million diapers and 200,000 meals."
Last month, Clayton held their monthly diaper drive before school, so families could pick up diapers and wipes after they dropped their children off. Harjo stated that WeeCycle has helped families save hundreds of dollars by providing diapers every month. "One pack of diapers, which is probably 30 diapers, ranges from $20 to $30," Harjo said. "And every dollar matters."
The impact WeeCycle has had on the Denver community, and Clayton families specifically, has been tremendous. "I've had families who have been homeless, then find housing, but have nothing to put in their house," Harjo said. "So, them and their babies are sleeping on the floor, but WeeCycle can help provide toddler beds, and folding tables, and car seats, and that helps offset what the families have to spend, and they're able to spend that money on other things they need."
Harjo has seen the hardships families go through firsthand, and the burden grew larger during the COVID-19 pandemic. However, the partnership between Clayton and WeeCycle has helped in many ways, beyond simply providing household essentials. "These donations help to provide routine and consistency to their lives," Harjo said. "WeeCycle can help families feel at home."
For more information on WeeCycle and the services they provide, head to www.weecycle.org.