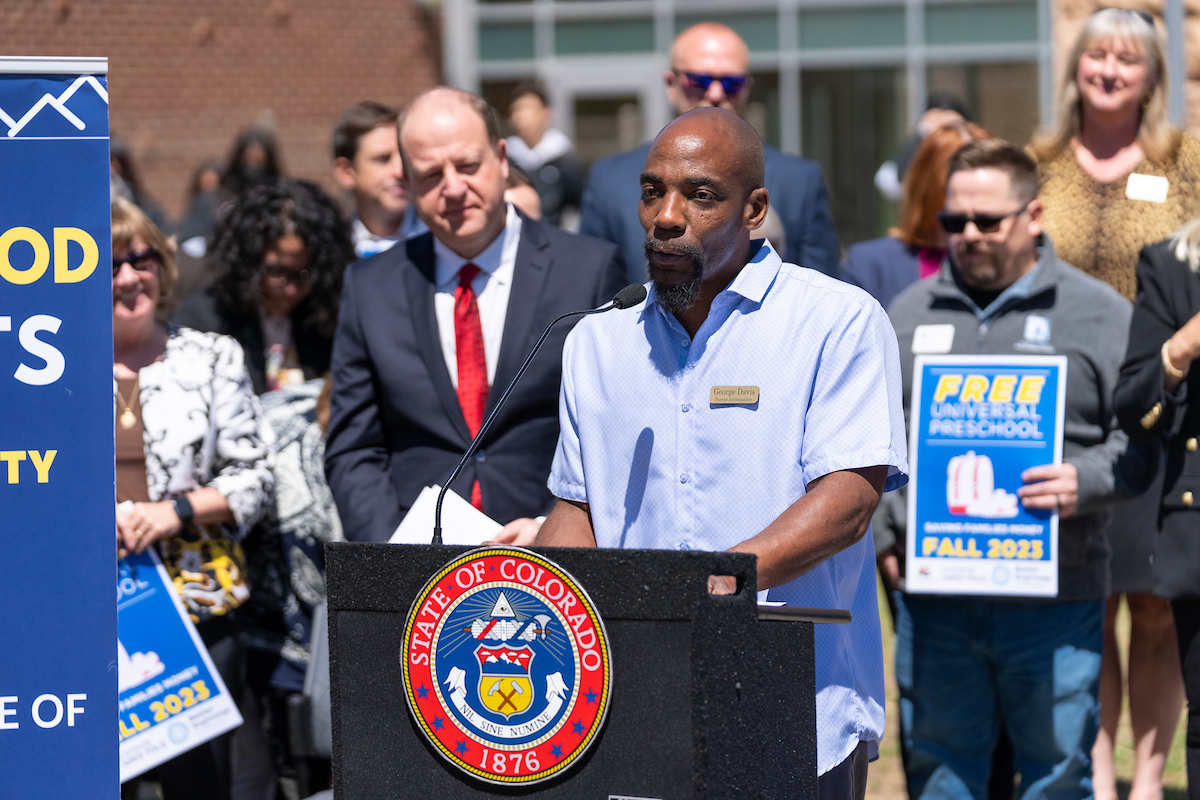 On April 25th, Governor Jared Polis visited Clayton Early Learning to sign House Bill 1295, a historic bill creating the Department of Early Childhood and providing universal preschool. In fall 2023, every 4-year-old in Colorado will have access to 10 hours of free preschool, saving families an average of $4,300 per year, while providing young children with the early childhood experiences they need for success in kindergarten and beyond.
Additionally, the new Department of Early Childhood promises to streamline the early childhood system for families by offering a one-stop shop for all of their early childhood needs. All families will have equitable access to a single point of entry for receiving support, resources, and more. With implementing this new system and providing universal preschool, Governor Polis aims to make Colorado a model for the rest of the country in making positive developments for preparing children for success and saving families money.
George Davis, Clayton parent and ambassador, welcomed attendees to the signing event and shared what the historic day meant for him and families across Colorado. "As a parent, I want you to know how much this means to young families. I'm proud to live in a state where a single working father like me can have a voice in this process – that puts children and families first," said George. "Your actions to improve access to early childhood services and the addition of universal pre-k will make a real difference in our ability to give our children every opportunity for a bright future. What in the world could be more important than that?"
While Clayton is excited by the expansion of universal preschool, our policy team is focused on the opportunity that the creation of the new department affords the state to improve the entire birth-to-5 system. ZERO TO THREE, a national early childhood development nonprofit, released the State of Babies Yearbook: 2022 last week, providing data that will help state policymakers determine where families need the most support. The report compiles 60 indicators that affect the well-being of children prenatal to three and provides an in-depth look at national and state-by-state progress across three policy areas: Good Health, Strong Families, and Positive Early Learning Experiences.
Colorado is home to over 190k babies, representing 3.3 percent of the state's population. While Colorado earned a top ranking in the yearbook among 12 other states across the United States, 32.5 percent of babies live in households with incomes less than twice the federal poverty line. Data also shows families have the least support during their children's earliest years. That is why it is so important that the new department is committed to making the early childhood system easier to navigate, advancing equitable access, prioritizing family needs and choice, and supporting the early childhood workforce. We are encouraged that policymakers are taking the needed steps forward to help Colorado kids and families access the early childhood experiences they need to thrive.
Clayton's policy team is committed to partnering with the new department to support the implementation of the universal preschool program, including universal enrollment and application processes, with the hope of helping families navigate the system better. But we also must remember that starting earlier is better and there is a lot more policymakers can do to support Colorado's pregnant people, babies, toddlers, their families, and caregivers. By working together to support young children, we can make Colorado the best state to raise a family.
Learn more about the State of Babies: 2022 at https://stateofbabies.org/.