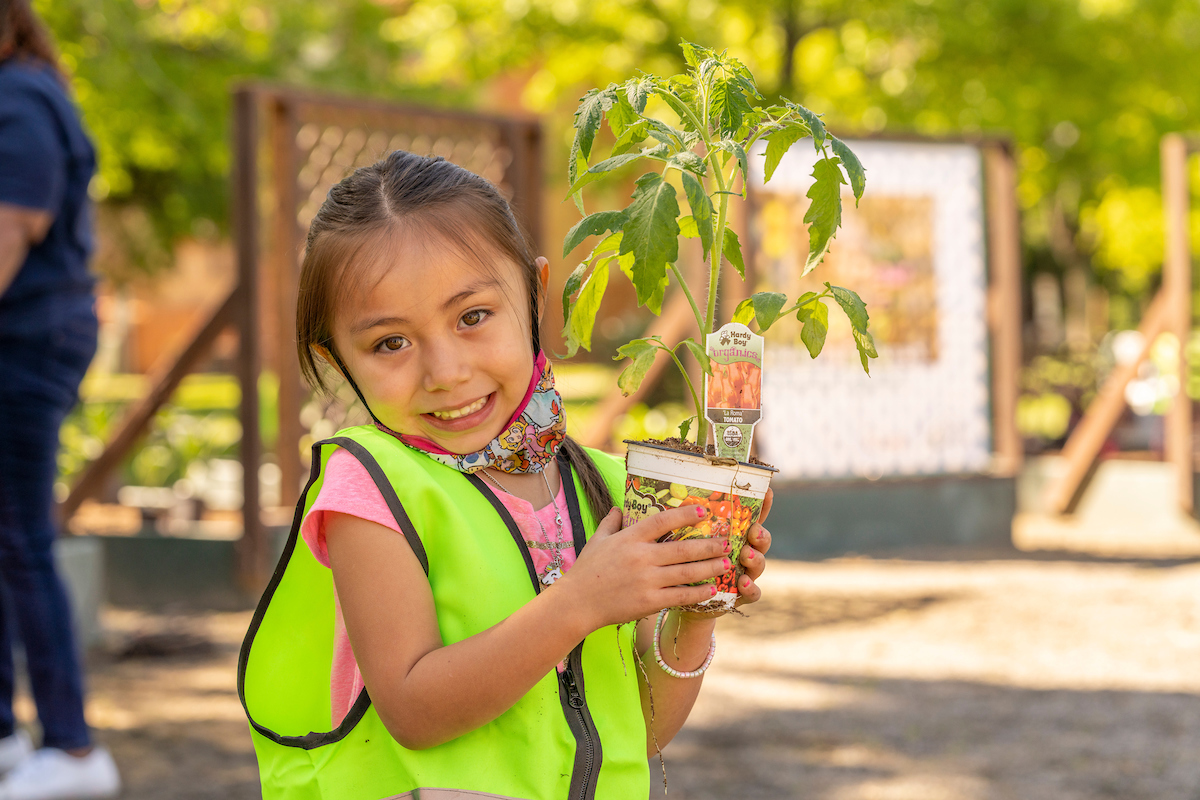 In what has become an annual tradition at Clayton Early Learning, the Moonbeam Gardens are once again filled with plants that will provide learning opportunities for young children, and a bounty of fresh produce to help feed their families. Clayton preschool children rolled up their tiny sleeves to help the professionals from Designscapes Colorado plant hundreds of Hardy Boy plants in 20 garden beds located on the Park Hill campus.
"Children are involved in our gardens right from the start," said Kristen Wilford Adams, Director of Health and Wellness at Clayton Early Learning. "Even the seeds and plants we select, it all comes from the childrens' interest and inquiry, and from their imagination."
This season marks the fifth year for this unique garden-to-table partnership. Every year Designscapes Colorado and Hardy Boy Plants teams-up with Clayton to provide the plants, the expertise, and the volunteer labor — throughout the growing season — to provide an incredible growing learning lab for Clayton children, and an amazing bounty of fresh produce that helps to feed families in the community.
"Five years later it's really developed," said Phil Steinhauer, owner of Designscapes Colorado. "I couldn't be happier with our partnership and how important it is. Everyone at Designscapes is grateful to come out here and work with Clayton."
Hardy Boy Plants also recognizes their crucial role in the Denver community in providing fresh produce for nearby families.
"I think it's really important that children at Clayton, and throughout our community, have an opportunity to grow plants and grow some of their own food," added Al Gerace, owner of Hardy Boy Plants.
Clayton Early Learning directly serves 500 of the more than 7,000 children in Denver living below the poverty line. With an emphasis on nutrition in a comprehensive health and wellness approach for children and their families, Clayton works to address food insecurity by building food equity. The Clayton health and wellness team operates a fully functioning chef's kitchen that at full capacity prepares 1,000 fresh, nutritious meals a day, from scratch, including organic baby food. During a typical week at Clayton, the children receive 80% of their calories, and children who enter our program above or below a healthy body weight, receive the nutrition and family support needed to trend to a healthy range by the end of the school year.
Wilford Adams continued, "We believe that all children and all families should have food equity with access to high-quality food. In teaching them where their food comes from, we are building a sense of good health and confidence, and a sense of power. Food is power. We know these children will know how to feed themselves, their families, and the communities."