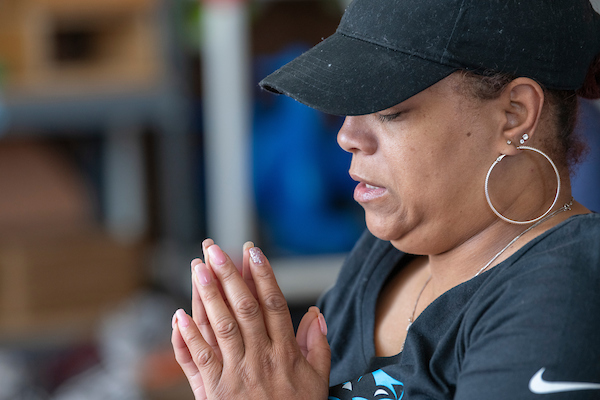 Teaching can take a toll on educators, both mentally and physically, and in the past couple of years, it's gotten even harder. EMBRACE™ is a program created at Clayton that aims to help educators manage their day-to-day stress with mindfulness techniques. Since 2017, EMBRACE™ has been helping educators improve their mindfulness, and Clayton's Research & Evaluation department recently analyzed the overall effectiveness of the program with promising findings.
After monitoring and interviewing educators before and after they went through the EMBRACE™ programming, the results looked positive across the board. From executive functioning to general anxiety, the data showed favorable outcomes.
Carly Landgraff, Senior Research Associate, said the program has helped educators think before acting and be more aware of their feelings. "When they come across a stressful moment in the classroom or in their lives, they can slow down and observe, and not judge themselves, instead of immediately reacting," Landgraff said.
The program targets the three C's -- clarity, composure, and connection. In the Executive Function category, which includes the ability to regulate one's behavioral and emotional responses, there was a 16% increase in educators who improved after going through the curriculum.
One educator at Clayton said those ideals helped them focus and be intentional with their words and actions. "EMBRACE™ taught me it's okay to be frustrated, to feel those big emotions, and it's okay to say to your kids, I'm feeling frustrated, I'm going to take a break and walk away."
The six-month program's curriculum was created and launched by Clayton's former VP of Learning & Talent, Cathy Jackson, and developed collaboratively with several employees and educators. 32 Clayton educators have participated in EMBRACE™, which is tailored to each individual educator and aids them in identifying their needs.
"Their job is always taking care of everyone else first," Landgraff said. "They tend to take care of themselves last, and it's just about bringing awareness into their own internal world."
After showing promise at Clayton, EMBRACE™ was adopted by three other Educare sites in California, Wisconsin, and Michigan. Kelsey Petersen-Hardie, Director of Learning & Talent, was a part of the development team, and said she's heard from several participants over the past five years. "It's been amazing hearing from educators across the country on how transformational EMBRACE™ has been in their lives," Petersen-Hardie said. "People say that they have become different people after going through the training."
The plan is to grow the program and help more educators take advantage of the tools and processes EMBRACE™ provides. In 2022, three additional clients will adopt the program and Clayton hopes to further expand EMBRACE™ to other early education providers.
Additionally, Clayton's study showed that 17% of educators reported improved self-reflective capacity. This means they better understood their own mental states and the mental state of others. Being self-reflective helps the educator, but it also helps their students.
"I think that the current focus on educator self-care and well-being is important for the success of our students," Petersen-Hardie said. "This program builds wellness right into the structure and wraps right into their day-to-day lives, and that's important for them and the kids."
To learn more about the program, visit www.claytonearlylearning.org/embrace.