Our school, Educare Denver, is part of a network of 25 early education schools across the nation that continually aims to better the lives of our children and families by researching best practices and outcomes in early education. Since 2008, the Educare Learning Network (ELN) study has evaluated the progress of children and families enrolled in Educare Denver and uses that data to provide practical suggestions for improving the program. Clayton's Research & Evaluation team (R&E) has been an integral part of this study, working with our Educational Services team to collect and analyze information from our local Educare and provide that data to the national study. The study includes four primary areas of data collection that together help enhance the quality of services provided to our Educare students and families: children, families, staff, and classrooms. The information collected in each area is detailed below.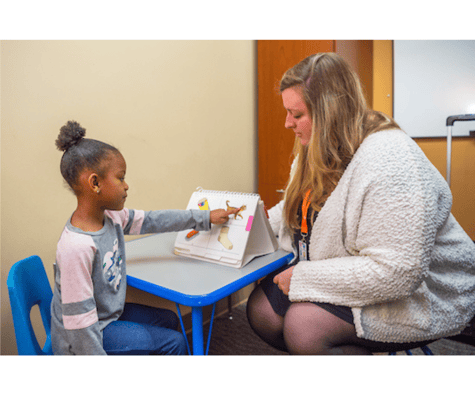 Each fall and spring, Clayton research associates assess all preschool children enrolled in the study on cognitive and academic skills such as vocabulary knowledge, receptive language knowledge, and early math skills. All assessments are norm-referenced, meaning they help identify whether children are acquiring age-expected knowledge in these areas as they develop. (Learn more about the assessments we use here.) The R&E team then meets with preschool teaching teams prior to fall and spring parent-teacher conferences to share individual and classroom level results of the assessments. Teachers, managers, coaches, and CFEs work together to use the results of the assessments to plan instructional activities in the classroom, as well as to help identify children who may need additional support. Teachers also share children's individual assessment results with parents during conferences and collaborate with parents to determine goals for their child.
"This past fall, a small group of PreK teachers discussed how to incorporate letter identification into their Tree Study based on a common pattern in their ELN data. One teacher shared that the children enjoyed writing beginning sounds for animals that live in trees!" - Christy Feller, Continuous Learning and Data Coach
In addition to fall and spring child assessments, families complete an annual parent interview with their Child Family Educator (CFE). The parent interview collects information about family experiences such as activities they do with their child outside of school and hardships they may be facing. Results of the parent interviews help inform the services Clayton provides to families and provides CFEs with more detailed information they can use to support each family according to their individual needs.
"When families report out how many books they have in their household and the amount they read to the child, CFEs strive to increase those numbers by helping the family get a library card...to obtain a book, enrolling in Imagination Library, and implementing and practicing dialogic reading during home visits." - Sonia Chawla, Family Engagement and Data Coach
Each spring, Educare staff complete a survey about their experience working in Educare. Teachers, coaches, and CFEs report their feelings and experiences working with children and families, how they are growing in their job role, and provide feedback about their work environment. School directors are able to use results of these staff surveys to help improve staff's overall experience of working at Educare and identify professional development opportunities.
"This data is an additional resource to support conversations and the goal setting process that happens in staff check-ins and Reflective Supervision." - Shelly Anderson, Director of Continuous Learning and Data
Classroom observations are collected each winter as part of the Educare study. During an observation, an observer joins the classroom for two to three hours to collect information about interactions between children and staff, the types of learning materials available in the classroom, and the classroom routines and activities. Observers meet with teaching teams, coaches, and managers to review strengths and areas of growth related to the overall classroom environment.
Clayton's R&E team plays a vital role in testing what works and examining opportunities for growth. Through the Educare National Evaluation Study, Educare staff are provided with information that helps them implement new practices so that each child and family receives the holistic support they need. It's our mission to help each child have the strong start they deserve so they're ready to continue learning and growing after graduating from our school.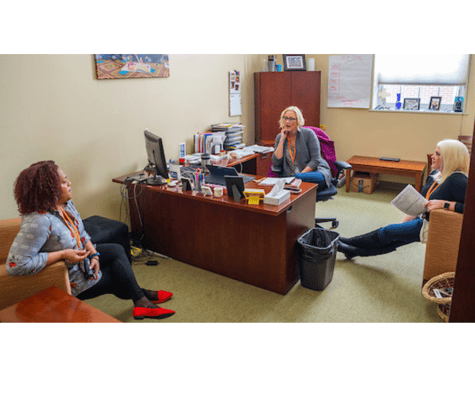 Recently, we had a Q & A session that provided a brief overview of the study on Tues. Jan. 17 from 5:00 - 5:30 pm.