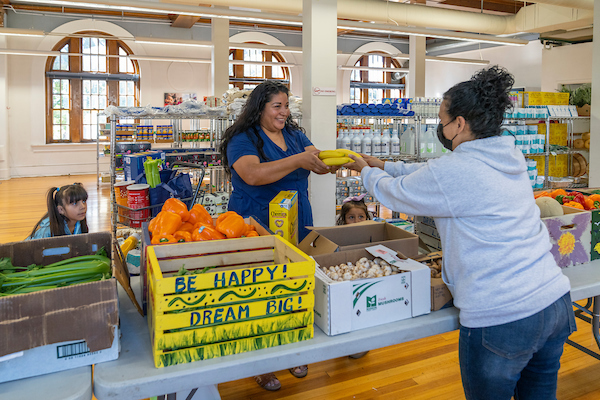 We're so excited to announce that the Clayton Cares Market opened on October 14th! A dedicated space on campus where Clayton families come once a week to select nutritious foods and household essentials – at no cost. Families can fill a bag with items like fresh produce and milk, snacks, diapers, clothing, and more.
The Clayton Cares initiative began in April 2020 as a volunteer-driven response to ensuring our children, families, and staff had access to food and household necessities during the pandemic. Within the first five months, we were able to serve 4,234 children and 1,853 families. Clayton Cares was a tremendous success in providing much-needed support for Clayton families, offering meaningful volunteer opportunities, and fostering strong community partnerships with organizations including Food Bank of the Rockies, Denver Food Rescue, Denver Food Emergency Network, and Revolution Foods.
"We are so honored to work with Clayton Early Learning. They are creative and innovative and over the past year have worked hard to expand programs to provide more children and families with nutritious food," said Tami Anderson, Food for Kids Manager with Food Bank of the Rockies. "As long-time Totes of Hope™ and packaged-meal partners with Food Bank of the Rockies, we are thrilled that they are planning to include Totes of Hope™ in their Clayton Cares Market distribution, ensuring that families have access to nutritious food over the weekend. We look forward to our continued partnership with Clayton Early Learning!"
In March 2021, a generous grant from a local fund paved the way for the Clayton Cares Market, allowing us to expand the program to provide perishable and ethnically diverse foods in a market setting. This grant also opens up the opportunity for Clayton to extend the Market to community members in the coming months, increasing our community-wide impact. Clayton also received a grant from a local foundation to purchase gift cards that support the unique food needs of Clayton families.
"This is a huge opportunity for Clayton to serve the community and eliminate barriers by providing access to everyday essentials, fresh produce, and healthy food," said Kristen Wilford-Adams, Clayton's Health and Wellness Director. "And instead of simply being given a tote of food, they can now shop at the market free of charge with dignity and ease in a beautiful and convenient location to meet the specific needs of their children and families."
The Market will be open on Thursdays from 7:30 to 9:30 am and 2:30 to 4:30 pm. For more information, visit claytonearlylearning.org/claytoncaresmarket.